Mint Chocolate Truffles
These minty truffles have so much chocolate flavor, one is all you need!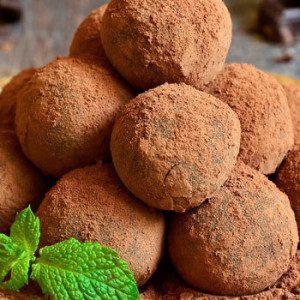 Ingredients:
5 oz

dark chocolate, 70% cocoa or higher, finely chopped

1 tbsp.

extra-virgin coconut oil, melted

½ cup

canned lite coconut milk

½ tsp.

pure mint extract (or pure vanilla extract)

⅓ cup

unsweetened cocoa
Instructions
Here are your instructions:
Combine chocolate, oil, and extract in a small bowl; mix well. Set aside.

Bring coconut milk to a gentle boil in small saucepan over medium heat.

Add coconut milk to chocolate mixture; whisk gently to blend.

Place chocolate mixture, covered, in refrigerator for at least 4 hours, or overnight.

Using a melon baller or spoon, scoop out 1 Tbsp. of chocolate mixture. Roll into a ball. Roll in cocoa powder until evenly coated. Repeat to make twelve truffles.

Store in refrigerator for up to one week or in freezer for three months.