Almost Famous
Me? On TV? No Way!!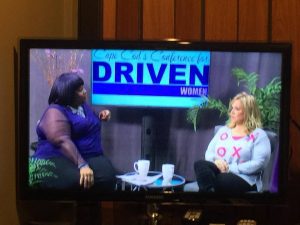 Ok so, "Almost Famous" is definitely a stretch but when your just a girl who works from home in a small town, being on TV in any capacity for the first time is kinda a big deal! What Marie is up to with Driven Women is so POWERFUL and it was a true honor to be invited on her show! We have a very similar commitment and DRIVE to empower others in creating a life they love! Check out what Driven Women is all about here. There is something for everyone!!
The Experience
My experience being interviewed on TV was like being on a roller coaster! I went through all the emotions from being excited, nervous, sick to my stomach, doubting what I had to share was important, insecure, wondering if TV really added an extra 10 lbs *sigh*, to the "LETS DO THIS" attitude and not wanting it to be over , to "When can we do this again?". Bottom line, it was amazing and something that I got to learn and grow from. We don't grow from doing the same thing over and over, day in and day out and being comfortable. We grow from taking chances, not let letting failure stop us, surrounding ourselves with  like-minded people that are up to big things and see us bigger than we see ourselves and having communities in all areas of our lives that support what we are up to and empower us to move forward EVERYDAY!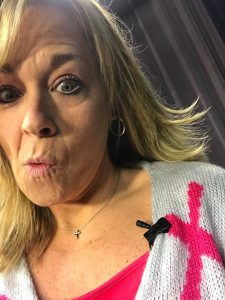 Something that I took away from this experience was a new vision of where I cam from. When we think of our "family history" we tend to think of the the things that effect our health or are a struggle. I mean, that is always the first question at the Dr office, right?!? When Marie introduced me and said that I was from and Entrepreneur family of Driven Women, there was a shift and it was AMAZING!! Of course I knew how amazing the women in my family are I look up to every one of them but I hadn't seen myself at the level of success that they are. When you come from a place where women are not afraid to work and create their lives, it's just simply in your blood!!
Here's the deal…take on the scary things in life and you might just get something you didn't expect!!
I'm excited to take you on this journey with me! There was so much covered in this interview! We talked about everything from my weight loss surgery, to my double knee replacements, to the work my husband and I do with Heroes In Transition, to how and why I do what I do and how I created my business Complete Balance By KMA and so much more!!
I hope that you find something for yourself that empowers you to take something on that you have been putting off. If you need that extra boost in creating your life and living a life you love, please do not hesitate to reach out!!
Much Love,
Coach KMA